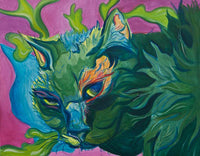 Beauty is More than Skin Deep
Customized paintings are inspired by shelter animals like this beauty here, "Blackie," was a shelter cat destined to be euthanized due to coming down with a cold.  She was instead saved by a foster and a no-kill rescue that stepped up to provide her medical care. 
Follow the link below and message us on Facebook to order your own customized Shelter Art portrait.
Shelter Art by Kaity Lacy
Rocco

Given a second chance through rescue
Gio and Dakota

Forever treasured
Maxi

Found her forever home
Rocco
Given a second chance through rescue
Gio and Dakota
Forever treasured
Maxi
Found her forever home