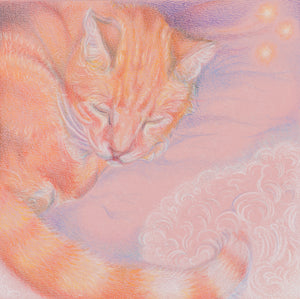 On National Ginger Cat Day we remember Burt aka Bert aka Burtsie/Bertie, who has since crossed over the rainbow bridge 🌈 
A couple years back I made post after post for a little orange tabby at ACCT listed timestamped and urgent. He had bad teeth and little did we know then- some very old and imperfect kidneys.
This kitty named "Burt" was calling to me and I remember shortly before his time was up a very kind offer was presented under my many posts. Candace of Narps Animal Rescue said that she had seen my pleas and would pull sweet Burt to safety. Burt could stay with me while he healing from his dental and then since he was a stray, he could reside as a barn kitty at Candace's.
Well though he was found to be very old and with kidney disease, he surpassed all of our expectations in terms of his sweetness. Barn cat life was not an option for him anymore as he adored people way too much. My senior kitty was not a fan of Burtie though so I know keeping him and having him separate from her, wasn't fair.
Months went by and he was loved at my house but we couldn't be his forever home. That's when the one and only amazing Christine Nordmann reached out. She and her family would take him as their very own.
Christine drove all the way down from Connecticut to pick him up. She greeted him with open arms and he did the same. Never have I ever seen a cat be more certain that his forever family had come to get him. Christine and her family were a blessing to both of us. She gave me updates all the time and shared stories of his "sloppy nose kisses," his habits of stealing food from dinner plates and his unique way of showing his affection by literally lying on top of you.
Christine and her mom, Debbie, and family are a complete blessing to the Philly cat community. They've taken numerous trips down to ACCT and pulled cats to safety who needed saving the very most. Burt was given the most perfect last chapter with the Nordmanns. His heart and belly were happy and full and Burt went from a stray on the streets to the beloved member of a family you see in the pictures below. It is an immeasurable gift that is so special and rare.
Thank you Christine, Debbie, Grace and all of the Nordmanns and thank you NARPS Cats for every life you pull to safety from ACCT Philly ❤️
New beginnings and precious endings are always something to hold near and dear to our hearts
8.5 x 11 in. prints offered of Burt's original drawing with a percentage of the proceeds going towards the rescue that saved him- NARPS.