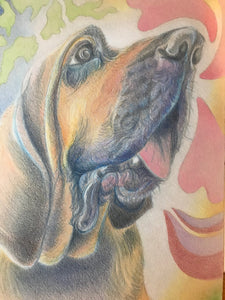 Every dog has his day and his story too.
Last year Bo, who lived in Texas, had found himself needing a new home. His family was forced to relocate because of work. Their new home was in the city and quite small. Bo would not have a yard or room to be happy. His family loved him dearly, but had to make the decision that they hoped would lead him to many more years of happiness.
Fortunately, Bo was sent on a transport all the way up to Maryland! Michelle with Wags for Winnie just so happened to be volunteering at the adoption event when she spotted Bo! I think it was most likely love at first sight but as things happen quickly sometimes, he was sent off to a foster home that was found. Michelle kept track of him though and when the foster let her know that he was too much for her in a small city apartment, he came to stay with Michelle and her family ❤️
Bo eventually became an official Wags dog and a beloved member of the family. What is so special about Wags though and their founder Michelle, is the way every single one of their dogs' needs are met!
Michelle took the time to seek out and contact Bo's last owner so she could learn more about his personality, his likes and dislikes and everything down to his little quirks. You see, Wags isn't just working for animals in need, but also to benefit our communities and the families within them. Bo's owner was so grateful to hear he was being loved and cared for that she ended up flying thousands of miles to see him and visit him as Michelle opened up her home for her and her family to come stay in.
Still today Bo's original family is kept in the loop with his health and the other happenings in his life. They have been put at ease their boy has found a home, a rescue and a family he can grow old with ❤️
Please give Wags a like and stay tuned for some news on exciting fundraisers coming up for the holiday season! These events will not only benefit Wags dogs but also the homeless shelter animals in their community. Founder, Michelle works year round not only to find solutions for many dogs in need but also to create positive changes in our communities when it comes to animal welfare. Michelle provides a voice for our animals, encouraging better more humane treatment for them and supports and advocates for better legislation to protect and enforce animal rights ❤️
A portion of the proceeds of this print will be donated to the very dedicated Wags for Winnie!