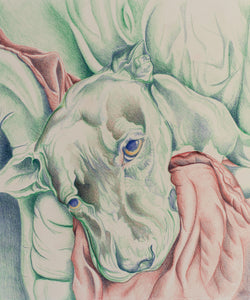 Nina is pictured years after her adoption. Shelter animals can go from a scared, tense state of being in a loud overcrowded building to a family in a home where they are loved and cherished.  
Rescuer Karen Davison once said, "Saving one dog will not change the world, but surely for that one dog, the world will change forever."
The effects of rescue are seen here in Nina's portrait that was drawn with colored pencil. 
Product details-
signed 11 x 17 in. giclee print (fits nicely into an  16 x 20 in frame with an 11 x 14 in. opening)
*frame not included with print purchase