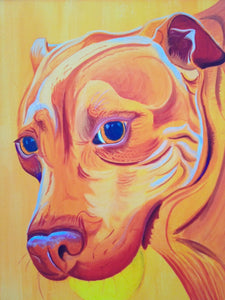 Johnny Mae was a tiny pit bull mix I met at a local SPCA.  This was years ago before I had had any interaction with pitties at all.  She was special.  She was in a cage with a rusted chainlink fence door.  The shelter was dark and dingy, but Johnny Mae had bright eyes and a beautiful spirit.  She was gentle and sweet- the perfect dog for any family.  She waited for months there and finally her chance came. She was scooped up by a young couple looking to start a family.  I was a shelter worker then and had bonded with her in such an unbelievable way.  I was so fortunate when the family asked if I would like to come visit her in her new home.  I did just that and found that she was absolutely loved and cared for.  She was their only "child' at that point and she was treated like royalty.  She had her own chest of toys, was walked every day and on the weekends went swimming at a nearby lake. She was a favorite amongst her neighbors too.  Johnny Mae was an ambassador for the bully breeds and she forever changed my outlook on shelter dogs.  I went on to make many paintings of her, and other animals, always remembering all she had taught me.  
When looking for a companion, there is no better place to go than a shelter. These dogs have so much love to give and are grateful for their "second chance."
Fostering, adopting, transporting or donating can make such a huge impact on the life of one animal. And it only takes one special one, like Johnny Mae, to teach so many the value of a life. 
signed 11 x 17 in. giclee print (fits nicely into an  16 x 20 in frame with an 11 x 14 in. opening)
*frame not included with print purchase