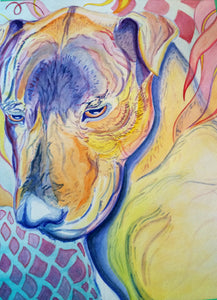 Gunji was one of so many sweet souls that did not receive the help he needed through an animal shelter. He lived as a guard dog on a property for over a year with his troubled owner and was finally abandoned one day in the yard. He was left tied to a tree with no food or water. When help arrived Gunji had already been taken to a local animal control facility. Gunji's new friend, a neighbor that had passed by seeing him in his yard many times, dedicated herself fully to
Gunji. She raised funds and brought awareness to Gunji's story. She found trainers to work with him and rescues to commit to him. She even found what Gunji needed the most, a loving foster home that would start to heal Gunji. But after all of her efforts, poor Gunji's fate had already been sealed. Though she visited Gunji and connected with him so, he was deemed unsafe for society by the very same shelter who had refused to touch Gunji because of his threatening appearance. Gunji was put to sleep but his story will remain in our hearts and there will still be so many of us fighting for the animals whose odds are against them.
Gunji's portrait was painted with watercolor. His spirit will remain bright and bold, just as it is in this image.