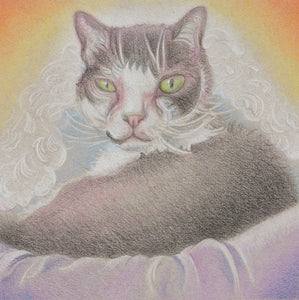 Another very special kitty we remember in our hearts as he's now passed over the Rainbow Bridge
This is Frisco. Frisco has lived with his mom, the wonderful @Lisa Bremer, for the past 13 years.
Frisco was taken in as an abuse case as a young kitten, when some kids were trying to blow him up with fire crackers. As sickening as this is, little did he know, he would soon after have the most amazing home and life with his mom and brothers and sisters. Frisco was Lisa's forever baby and he would comfort her and sleep by her side every single night.
Frisco was loved immensely and just as any rescue, he was so grateful for being saved and protected, he gave his love and affection right back.
Like Frisco, the cats in Lisa's life have served as nothing less than inspirational because Lisa is known as an absolute hero in the Cat world!! She has not only supported Acct volunteers and staff members with her acts of kindness that come from her enormous heart but also has generously funded hundreds of kitty spay /neuter surgeries through her Peanut Fund. This in itself allows many feral kitties to have longer, healthier lives but also prevents cat over population in the city with sick and starving cats. The Peanut fund was named appropriately after another special kitty in her life, "Peanut." Peanut was a therapy kitty who traveled to nursing homes and Lisa tells me he had a very special way of calming the patients with dementia and Parkinsons.
We commend Lisa for her amazing work that has benefited both the community's animals and people. Her generosity has helped so many and we celebrate Lisa and the kitties that have been so lucky to spend their lives with her.
8.5 x 11 in. prints offered of Frisco's original drawing with a percentage of the proceeds going towards Lisa's Peanut Fund.