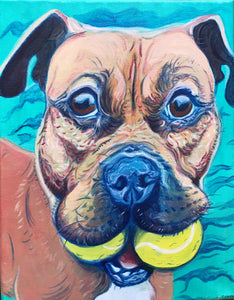 Diesel ended up at ACCT PHILLY, Philadelphia's only open access shelter in the city.  Sadly, the shelter is perpetually full of owner surrender and stray animals.  The caring staff, volunteers and director there, do not give up easily on the animals they love.  They promote animals like Diesel, who are struggling living in the shelter environment.  
Diesel had been there for months and sometimes when that happens, dogs tend to hold on to what they have, a little stronger than they normally would, even though that may not have much at all.  In Diesel's case, he would hold on to those tennis balls and never let go! Guarding can be dangerous in shelters and result in bites, even from some really sweet dogs like Diesel! The shelter knew that they had to act fast! Diesel was promoted and the photograph that inspired this painting, was sent out to rescues all around the community !  
Well, a photograph too can speak a thousand words! And this one in particular, taken by a dedicated ACCT volunteer, told Diesel's story to a T.  Thankfully "Wizard of Paws" rescue answered  his plea! Wizard of Paws is a small rescue that helps the most in need animals at shelters- both medical and behavioral cases! They have saved many lives- both cats and dogs in their first year of rescue and with their amazing efforts, they were able to save Diesel's too!
Diesel was given consistent training to help encourage his best behaviors and even more wonderful, his very committed fosters fell in love and decided to make Diesel a forever part of their family.
20% of your purchase will be donated to Wizard of Paws Rescue that pulls animals due to be euthanized in shelters, to safety, providing them with medical or behavioral treatment they need to be adopted.
Check out more of Wizard of Paws lifesaving work at- 
https://www.facebook.com/pg/wizardofpawsrescue/posts/
signed 11 x 17 in. giclee print (fits nicely into an  16 x 20 in frame with an 11 x 14 in. opening)
*frame not included with print purchase
Photo accredited to dedicated volunteer, Sarah Fern