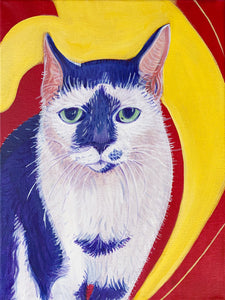 Cuddles' story-
Rhonda and her husband tragically lost their sweet boy Cuddles at 17 1/2 years old. Hearing about his life with them does make you feel their loss but it also is a reminder of the amazing care some animals are just so lucky to find. Cuddles became diabetic in his elder years and Rhonda and her husband gave him the best care he could possibly have gotten.
Rhonda told me tonight all about Cuddles. His habits, his personality, even his favorite spot curled up on her hubby's chest. It was obvious that Cuddles was absolutely adored and treasured throughout his life with them.
The world of rescue can be a difficult one to navigate. It can be tough and draining and full of ups and downs, and then you have those moments that are inexplicably rewarding.
Talking with Rhonda tonight was one of them. When cats in need find homes like Cuddles did with his family, that's what makes it all worth it. As I got to see so many of his photos, it's easy to tell Cuddles brought so much joy and happiness to his companions' lives and despite him not physically being here in this world any longer, I know he touched his owners so much, that his memory and spirit will forever be with them.
Product details- 
signed 11 x 17 in. giclee print (fits nicely into an  16 x 20 in frame with an 11 x 14 in. opening)
*frame not included with print purchase