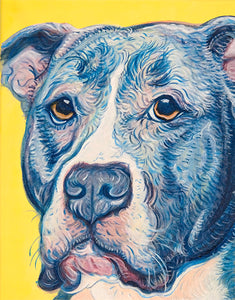 Avocado's story-
Avocado is the epitome of a rescue. Her long term foster and dedicated caregiver Donna Covey, told me this pretty girl's story from beginning to end.
One day last year, a woman watched in horror as a dog was shoved out of a car in Philly. The car took off and who was left was an emaciated, dog in horrible condition. With a skin infection and worms and later found to have a pyometra, the kind bystander took the girl home. Realizing the extent of the medical attention that was needed, she began contacting rescues. Luck have it, she found an absolutely wonderful one - One Love Animal Rescue Group Inc.❤️
OLAR literally nursed her back to health and provided her with all of the medical attention she desperately needed. Nutrition and patience, as she gained the weight she needed to grow strong and healthy again and surgery for her pyometra and her spay. A rescue like this does not stop here though, they provide lasting care - behavioral and medical until sweet Avi found her forever home 💜
A truly amazing recovery brought to you by the tireless advocates and volunteers alike at One Love.
20% of your purchase will be donated to One Love Animal Rescue that pulls animals due to be euthanized in shelters, to safety, providing them with medical or behavioral treatment they need to be adopted.
Check out their lifesaving work at- 
http://www.oneloveanimalrescue.org
signed 11 x 17 in. giclee print (fits nicely into an  16 x 20 in frame with an 11 x 14 in. opening)
*frame not included with print purchase